Hi girls !
Here is my new item available !
----- GENERAL INFOS -----
- I ship from FRANCE -
- Shipping fees NOT included -
- I'm not responsible of shipping problems, there will be not refund so please choose the appropritate method -
- My EBAY feedback is HERE -
- My EGL Feedback is HERE -

------------------------------------
Menthe Chocolat Custom Swimsuit, 1, 2, 3 or 4 piece set !


You choose all details, so you have a UNIQUE swimsuit !
You choose the shape, the fabric, the number of pieces !

Mine: Top shape 4, bottom shorty, fabric 12


WORN PIC HERE
------ SPECIFITICIES ------

Fabric : Spandex Lycra
ultra comfortable and enough stretchy fabric.
Sizing chart : EUR (on demand) and custom
Supplies : Polyester resistant thread, special foam cups, swimsuit clips, all adapted for swimsuit.


- Special cups are included for top shapes 4 and 5, but you can ask me to put them onto the other top shapes.
- Shapes 4 and 5 contains steel armatures.
- You can choose between 2 types of back closing: Clip or tied links.
- All the bottoms have a lined bottom inside.
- The skirt is only a skirt, no panties inside.


------ PRICE ------

1 or 2 pieces : 55€ / 78USD
3 pieces : 65€ / 93USD
4 pieces : 75€ / 107USD

Payment method: Paypal
For EUR: Paypal , Bank transfer
For France: Paypal, Virement, Chèque

Exceptionnaly, I ask full payment at order, since 90% of it goes on supplies. I decided to reduce the buying price at maximum to make the swimsuit accessible for all.

You'll pay the shipping when the order is ready.

Order spots limited at 5 for the moment.
Estimate making time : about 2 or 3 weeks,
so hurry up if you want to use it this summer !

------- FOR ORDERING -------

Please make your order post like this:


Nickname:
Number of pieces:
Fabric Number (or color if solid):

Top shape number:
Bottom shape:

Skirt ? Yes / no
Top part ? Yes / no

Payment method:
Location (for shipping):



If you want to see larger pictures of fabrics, please leave a comment below with the numbers of them.

TOP SHAPES :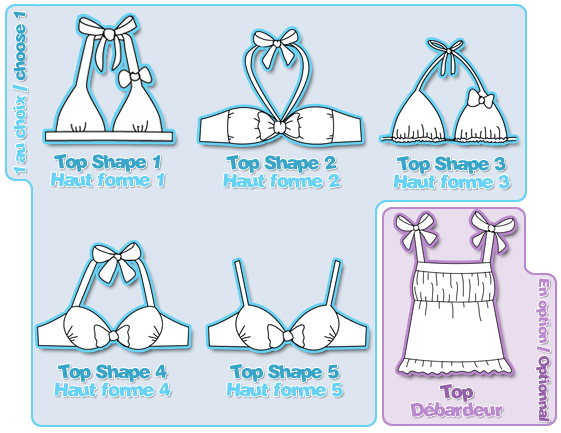 BOTTOM SHAPES: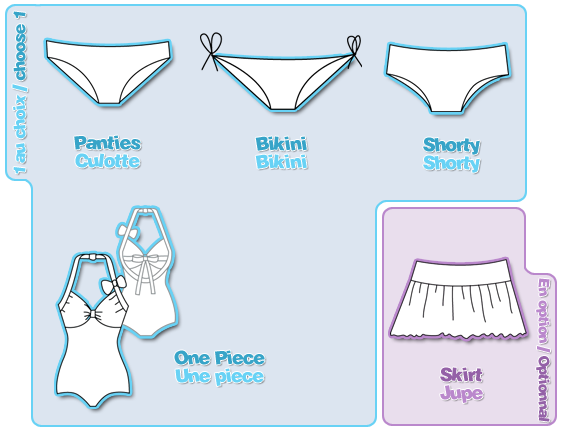 AVAILABLE FABRICS :



SOLID COLORS :



RED - PINK - BLACK - CHOCOLATE - MARINE
LAVENDER - GREY - SKYBLUE (maybe mint, I don't know) - BLUE - WHITE